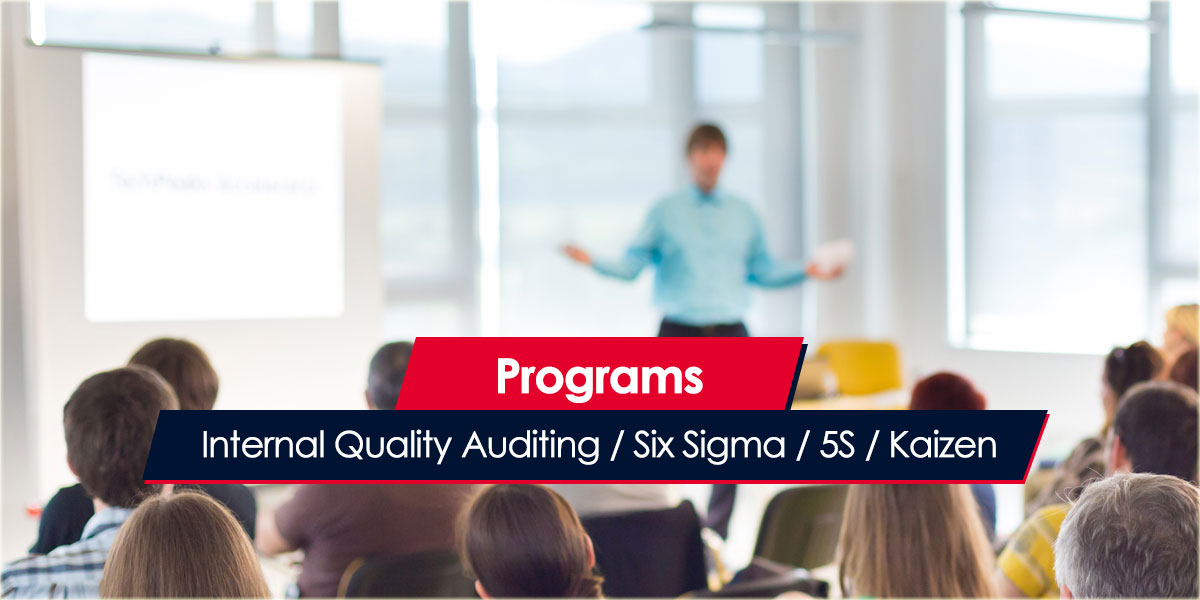 Training Programs
1) Core Tools
Core Tools are considered a standard throughout the automotive industry. These five tools that are used throughout a product's lifecycle, from development to production and delivery, are the fundamental building blocks to a Quality Management System that consistently produces the right products on time. In fact, the aerospace, defense, pharmaceutical and medical industries are adopting core tools as their standard requirements throughout their supply chains in much the same way that the automotive industry has done with IATF 16949.
Training Topics:
Advanced Product Quality Planning (APQP) defines a process for creates a roadmap for developing new products complete with time-based milestones and decision points along the way. APQP is considered a core tool because it is a vehicle for suppliers and customers to work together when developing a new product. This helps assure that the product is delivered on time and with the highest added-value. New Product Introductions (NPIs) have a greater success rate when the principles of the APQP approach are followed.
Failure Mode and Effects Analysis (FMEA) is a core tool that uncovers potential failure modes, assesses the risk those failure modes and establishes action priorities to mitigate the highest priority risks. FMEAs can be conducted on both designs (DFMEA) and processes (PFMEA).
Measurement System Analysis (MSA) is critical core tool because it assures that the measurements you are taking are accurate. If the measurement system is not giving your accurate information, then it will be impossible to know if product is being produced meets the customers' requirements.
Statistical Process Control (SPC) gives operators a tool to monitor stable processes and to identify when the process is going out of control due to special causes so that problems can be addressed before product quality is affected. SPC is an important core tool because it sends signals with a capable process is statistically shifting outside of the range of normal, expected variation.
Production Part Approval Process (PPAP) provides a formal, standardized framework for customer-supplier communications regarding the specification and quality requirements for products, parts and materials. As a core tool, PPAP ensures suppliers and customers both have the same understanding of product requirements and how those measures will be evaluated and confirmed.
2) Internal Quality Auditing Training
In today's times employees with leadership potential need to acquire detailed skills necessary to scrutinize and manage quality in an organization. Understanding this need we offer highly professional Internal Quality Auditing Training. We offer comprehensive training pertaining to Internal Quality Auditing thus empowering you to meet the requirement of your employer in a better way.
1. ISO 9001:2015
2. ISO 14001:2015
3. ISO 45001
4. ISO 22000
5. HACCP
6. IATF 16949:2016
7. ISO 13485:2016
8. ISO 17025
3) Six Sigma Training
Are you in the process of developing an exclusive business management strategy then avail our Six Sigma Training. With the Six Sigma Training you will be in a knowledgeable position to improve the quality of the organizations process outputs by detecting and eradicating the causes of errors. Since its establishment the company holds a brilliant track record of client satisfaction, by offering comprehensive Six Sigma Training.
4) 5S Training
For managing and creating the perfect working set-up for your organization developing the 5S system can be very useful. The 5S system denotes Sort, Set in order, Shine, Standardize & Sustain. The company offers a broad based 5S Training Service, backed by an adroit team and broad-based business network.
5) Kaizen
Kaizen are the Lean tools that are used to change the way the product is produced. They are used to eliminate the waste in the products being produced. The main goal is to create a "better" process. The Kaizen training course covers the following topics.
» Introduction
» Kaizen- Definition
» The non-value adding activities in the organization
» Basic Problem Solving - Ishikawa and 5 Whys
» How to implement Kaizen?
» Examples of Lean tools to be used for kaizen events
6) TPM
Total Productive Maintenance or TPM is a systematic approach to improve efficiency, productivity and reliability of the equipment in an organisation. to improve the efficiency, TPM aims at eliminating 16 Major losses, which obstruct production efficiency. Total Productive Maintenance Training & Implementation not only increases production by improving effectiveness of machines but also helps in increasing employee morale and job satisfaction.
Total Productive Maintenance (TPM) is a culture that focuses on improving the effectiveness of the plant, equipment and processes through the empowerment of people to achieve Zero BAD (Breakdown, Accident, Defect).
An internationally accepted TPM benchmark developed by the JIPM Seiichi Nakajima is therefore regarded as the father of TPM.[2] The classic TPM process he developed consisting of 5 principles was later enhanced by the JIPM to incorporate many of the lessons of Lean Manufacturing and is referred to as Company Wide TPM which consists of 8 principles/pillar.
The eight pillars of TPM are mostly focused on proactive and preventive techniques for improving equipment reliability:
» Autonomous Maintenance
» Focused Improvement
» Planned Maintenance
» Quality management
» Early/equipment management
» Education and Training
» Administrative & office TPM
» Safety Health Environmental conditions
7) ZED
Zero Defect- Zero Effect (ZED) is the Initiative by Government of India to enable the advancement of Indian industry to a position of eminence in the global marketplace and leverage India's emergence as the world's supplier through the 'Make in India' mark particularly in MSME sector.
Values of ZED Scheme:
Zero Defect (focus on customer)
» Zero non-conformance/non-compliance
» Zero waste
Zero Effect (focus on society)
» Zero air pollution/liquid discharge (ZLD)/solid waste
» Zero wastage of natural resources
In ZED, The MSMEs will be assessed & rated only on defined enabler & outcome parameters on operational level indicators while the organisational level indicators are also useful pointers towards implementing a ZED Maturity Assessment Model at the operational level. These indicators may include:
» Manufacturing capabilities
» Design capabilities
» Quality/Environment/Safety assurance systems
» People development and engagement systems
» Standardization and measurement systems for quality and environment
» Learning and improvement systems
» Legal compliances (hygiene factor)
An MSME applying to be evaluated on the ZED Maturity Assessment Model shall demonstrate and will be assessed & rated on the following parameters at the operational level:
» Enablers for Product Quality
» Enablers For Emission, Effluent and Waste Disposal Activities
» Enablers For Resource Management
» Outcomes
IQS Global provide Consultancy and Training to prepare the clinet to achive rating above 2.2 that's Bronz Level.